Copperloy Loading Dock Equipment & Wyoming Yard Ramps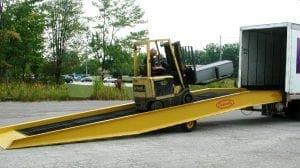 Regardless of the industry you're in, if your Wyoming business is looking for high-quality, versatile loading dock and material handling equipment, then Copperloy is the brand you want. We have more than 60 years of experience producing industry leading equipment. Everything we offer is proudly made in the USA.
Learn more about our products and how Copperloy can help your business get ahead.


Buy Wyoming Loading Dock Equipment from Copperloy
Copperloy produces a wide range of different equipment and gear:
We offer a large selection of portable yard ramps, dock-to-ground ramps, and other ramps in various sizes, specifications, and weight capacities.
Additional equipment includes options such as dock lifts, edge of dock levelers, rail boards, dockboards, and lift tables.
All of our products are versatile and dependable, with a variety of features designed for maximum efficiency and safety.
Call Copperloy at 888-989-9164 to get started with our industry leading, high-quality yard ramps in Wyoming today.