[av_one_full first min_height=" vertical_alignment=" space=" row_boxshadow=" row_boxshadow_color=" row_boxshadow_width='10' custom_margin=" margin='0px' mobile_breaking=" border=" border_color=" radius='0px' padding='0px' column_boxshadow=" column_boxshadow_color=" column_boxshadow_width='10' background='bg_color' background_color=" background_gradient_color1=" background_gradient_color2=" background_gradient_direction='vertical' src=" background_position='top left' background_repeat='no-repeat' highlight=" highlight_size=" animation=" link=" linktarget=" link_hover=" title_attr=" alt_attr=" mobile_display=" id=" custom_class=" aria_label=" av_uid='av-37clme']
[av_textblock size=" av-medium-font-size=" av-small-font-size=" av-mini-font-size=" font_color=" color=" id=" custom_class=" av_uid='av-kjca2mwc' admin_preview_bg="]
[/av_textblock]
[av_textblock size=" av-medium-font-size=" av-small-font-size=" av-mini-font-size=" font_color=" color=" id=" custom_class=" av_uid='av-kjcadl2z' admin_preview_bg="]
Maximize Productivity with Copperloy Loading Dock Equipment
What is Your Current Dock Equipment? / Know Your Dock Equipment / You Need Your Equipment Now / Why Choose Copperloy?
If you have ever done a kitchen remodel, you understand how much work goes into it. There is a demo of the existing cabinets and countertops, new drywall, and electrical work. But before you even begin the demo part of the project, you need to consider workflow.
Do you want an island for additional storage and food prep? Should you move the refrigerator to another wall to expand countertop space and cabinet storage? So many questions, but they need to be answered if you want your new kitchen to function well for you and your family.
The same goes for your warehouse facility when you are considering new loading dock equipment. Perhaps your loading dock equipment has seen better days, or you just want to improve efficiency in your warehouse facility. No matter what the reason, you first need to understand your current layout before changes can be made.
What is Your Current Dock Equipment?
Before we can suggest the right loading dock solution for your facility, we need to understand exactly what your needs are. What type of equipment are you currently using? Have your material handling needs changed since starting operations in your warehouse?
We are generally able to gather all the information we need over the phone, but we do rely on our distributors to supply further details. If necessary, they can visit your facility to get a better understanding of your present workflow.
Know Your Dock Equipment
If we determine that a particular yard ramp is the best solution for your facility, the next step is determining the needed capacity. For that, you need to know your equipment specs.
Will you be running forklifts on the ramps? What is the weight of the forklift, and what is the max load it will be carrying? Other important measurements include dock opening, truck height, the width of the door opening, and the width of what is using the ramp.
These numbers are critical for ordering loading equipment that will work seamlessly with your current dock setup.
You Need Your Equipment Now
We understand that sometimes customers need a solution sooner rather than later. In this case, we usually recommend an in-stock item. From yard ramps to dock lifts, we have a variety of solutions ready to ship to your location.
But what if you have unique loading dock needs? We can handle those, too.
We had a customer who needed wider ramps so his product would not hit the curbs on the way up the ramp. The problem with wider ramps is that they often will not fit in standard trailers. We solved the customer's dilemma by making a special lip that would fit in all truck trailers and support the ramp.
Why Choose Copperloy Loading Dock Ramps?
Copperloy offers more than 60 years of experience manufacturing loading dock equipment. As a leading provider of loading dock equipment solutions, we design our yard ramps to offer superior durability, longevity, and stability to competing brands.
Freight loading operations require the use of various forms of heavy-duty equipment. Machinery like forklifts can introduce numerous potential safety hazards, so we design our ramps to provide improved forklift accessibility. In fact, our ramps exceed OSHA safety standards, ensuring you can maximize productivity while keeping workers safe.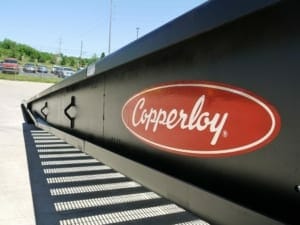 Copperloy loading dock ramps also feature an efficient, one-cylinder design, so they require significantly less pressure to raise than other ramp models. One-cylinder design offers a variety of other advantages:
Easier to operate– We position the hydraulic pump on the outside of the ramp for more convenient operation.
Quicker raise times– One-cylinder ramps raise two and half times faster than two-cylinder ramps, so you can set up and complete tasks much more efficiently.
Minimal wear and tear– All rotation is centered on the ramp's positioning sleeve rather than the ramp's connection, reducing overall wear and minimizing maintenance requirements.
Balance and stability– A centrally-located cylinder provides superior balance and stability, preventing tipping and potential accidents.
If you are looking to upgrade your loading dock equipment, Copperloy ramps are a welcome addition to any facility. Contact Copperloy today to learn more about our loading dock ramp options.
[/av_textblock]
[/av_one_full]