The Top Applications of Van Ramps & Stage Ramps
Van Ramps Are Anything But Ordinary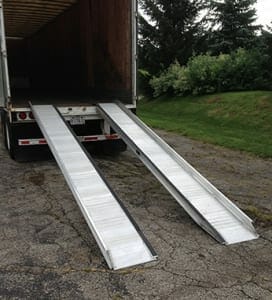 Industry professionals across the country trust Copperloy van ramps to transport their heavy and valuable equipment. Our van ramps are the top choice due to their weight capacities, safety features, and easy maintenance. Depending on the weight and size of the materials, a Copperloy van ramp can hold anywhere from 2,500 lbs. to 4,000 lbs. Widths range from 38 ½" to 44 ½" to accommodate all cargo.
Van ramps will increase efficiency while also keeping everyone safe. Some of our unique safety features include:
12" Lip
4 ¾" Overall Curb Height
15" Grade Angles
Shark Tooth Deck Grating for Slip-Resistance
For quality and safety, choose Copperloy van ramps. Our van ramps are popular among those who work in the music/performance, service, and professional moving industries.
Cargo Van Ramps in the Service Industry
A Copperloy cargo van ramp is versatile and easy to use for many service-based industries. Catering companies, cleaning services, and delivery drivers all benefit from a reliable cargo van ramp. A cargo van ramp creates a safe transition between a cargo van and the ground, ensuring workers can transport heavy or fragile items safely. The lightweight design of the cargo van ramp also allows for easy setup and tear down.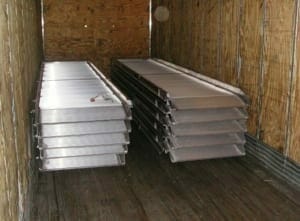 Businesses that use cargo vans for their daily operations usually have a variety of items to transport. Catering services need a safe cargo van ramp as they carry delicate desserts or heavy trays of food. Cleaning companies or other service-based companies need a sturdy ramp to walk on as they carry cleaning supplies and equipment in and out of the van. Delivery drivers benefit from the lightweight design of the cargo van ramp because it can be set up with ease. This way, they can quickly unload and load materials at each site. A wide variety of service industries benefit from a Copperloy cargo van ramp.
Moving Truck Ramp in the Professional Moving Industry
Packing up and moving an entire home or apartment is no easy task. Without the proper packaging and vehicles to transport items in, moving can quickly turn into a nightmare. Professional movers are ideal for transporting personal belongings between homes, but they need help, too. A moving truck ramp establishes a safe and durable connection from the back of a moving truck to the ground.
Professional movers deal with heavy boxes and fragile items every day. Without a moving ramp, the risk of dropping heavy materials or missing a step out of the truck is high. To safely and efficiently unload personal belongings, trust a Copperloy moving truck ramp to get the job done.
Stage Ramps in the Music Industry
Those who work in the music or performance industry know the immense value of the audio equipment or instruments used on stage. If the crew is unable to deliver the equipment onto the stage, the performance can't begin. Simply carrying the equipment onto the stage by hand is too arduous and too risky. There's the potential for missing a step up to the stage or becoming overwhelmed by the weight of the equipment. Instead, choose a Copperloy stage ramp.
A stage ramp creates a seamless transition from the ground to the edge of a performance stage. This way, crew members can easily push or pull equipment onto the stage ramp with a dolly or other moving cart. With a safe stage ramp to walk on, crew members don't have to worry about unsafe surfaces or not knowing where to step.
Choose Copperloy Van Ramps
Van ramps are the preferred ramp system for stage crews, service fleets, and professional movers. Customers choose Copperloy van ramps time and time again for their advanced safety features, lightweight design, and high capacity limits. We are proud to manufacture van ramps and other loading dock equipment right here in the USA. Copperloy has been one of the leading manufacturers of yard ramps and other equipment for over 60 years. If you work in an industry that requires durable van ramps, contact Copperloy today.