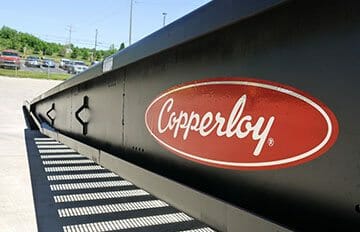 If you're still using traditional yard ramps at your warehouse facility with a two-cylinder pump design, you may be missing out on a way to make loading and unloading more efficient.
We've updated the hydraulic pump design on Copperloy's lineup of OHSA-compliant industrial yard ramps, and the results are in. From faster raise times to improved safety, these redesigned ramps are the time savers you've been looking for.
Already convenient and safety-focused, our new yards ramps now offer a variety of features to make them even more efficient for material handling needs at factories and warehouse facilities.
Effective One-Cylinder Yard Ramp Design
1. Faster Raise Times – Copperloy's revamped, one-cylinder design uses less pressure to lift the ramp when compared to traditional yard ramps with two-cylinder hydraulic systems. This allows for not only easier operation, but faster raise time as well—up to two-and-a-half times faster than the average industry ramp.
2. Reduced Wear – A traditional two-cylinder pump can rise unevenly due to a variety of conditions, including general wear. Copperloy's one centrally located cylinder guarantees that the ramp will rise evenly every time.
3. Improved Safety – Our new design provides greater stability because the hydraulic system is disengaged while the ramp is in use. This allows the ramp to work in unison with raising and lowering of the truck.
4. Easy Pump Access – The pumps location on the outside of the ramp frame allows for easy access at all times.
5. Reduced Potential for Tire Issues – Solid-filled pneumatic tires can handle rugged terrain without the potential for punctures or air pressure problems.
6. Relocated Rotation Point – Rotation occurs on the redesigned positioning sleeve instead of the ramp connection, reducing wear on the ramp structure.
7. Improved Position Sleeve – Three points of connection greatly reduces the likelihood of disconnection during irregular maneuvers.
Watch the comparison video below showcasing the time-saving efficiency of Copperloy's redesigned yard ramp versus standard industry ramps. Contact Copperloy to find out more about the benefits of one-cylinder hydraulic yard ramps.