We Take Loading Dock Safety Seriously
Why Choose Copperloy Loading Ramps? / Copperloy Yard Ramp Safety Features
According to the Bureau of Labor Statistics, falls, slips, and trips accounted for 247,120 cases of on-the-job injuries at U.S. private industries in 2014. Warehouse and manufacturing facilities have the potential for workplace accidents.  That is not surprising when you consider all the heavy equipment required to load and unload trucks.
Here at Copperloy, we take every precaution in our own facility. Here are some of our top tips for keeping your loading dock clear of potential hazards and keeping your employees safe: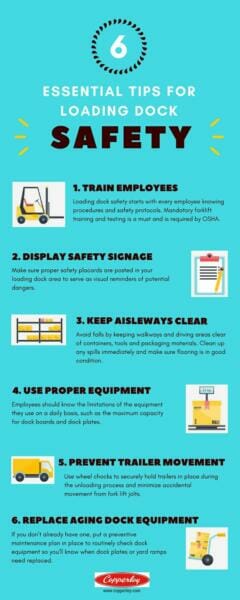 *Also, be sure to check OSHA for the latest loading and unloading regulations.
How Can Copperloy Yard Ramps Help You?
If you are looking for an effective way to improve safety for freight loading operations, Copperloy yard ramps are the way to go. As a leading provider of loading dock equipment solutions, we design yard ramps that maximize productivity, floor space, and most importantly, safety. With durable construction and efficient design, Copperloy yard ramps are a welcome addition to any facility.
Here at Copperloy, we offer over 60 years of experience in the development of loading dock ramps and other forms of loading dock equipment. We equip our engineers with the industry's most advanced equipment, so we can consistently deliver the best equipment solutions on the market.
Loading with forklifts introduces a litany of safety hazards to workers and forklift operators. Thus, we design our ramps to offer exceptional accessibility balance while forklifts perform loading tasks. In fact, Copperloy's yard ramp design meets and exceeds OSHA's safety standards. So, you can trust our equipment to keep your workers safe while significantly increasing productivity.
Furthermore, Copperloy yard ramps feature a unique, high-efficiency, one-cylinder design. As a result, they require less pressure and effort to raise relative to other yard ramps on the market. Our one-cylinder design offers a variety of advantages:
Easier to operate – The hydraulic pump is positioned on the exterior, so access and operation are more convenient for operators.
Quicker raise times– Copperloy one-cylinder hydraulic yard ramps raise two and a half times quicker than their two-cylinder counterparts.
Minimal wear and tear– Rotation is focused on the yard ramp's positioning sleeve instead of the ramp connection, minimizing wear as well as maintenance requirements.
Superior balance and stability– The centrally-located cylinder improves balance and stability while preventing tipping.
If you are looking for new loading dock equipment for your facility, a Copperloy yard ramp is the best place to start.
Copperloy Yard Ramp Safety Features
SAFETY CURB
Our  yard ramps are designed with 6″ safety curbs. As a result, they can prevent runoff when forklifts are traversing them. The hollow-section design and box-frame construction also minimize stress for heavier loads and cargo breakout, ensuring forklift operators are safe while they work.
8-FOOT LEVEL OFF
The 8-foot level off is another core safety feature of Copperloy yard ramps. This feature significantly improves forklift accessibility, making freight loading tasks even safer and more efficient.
15-INCH LIP
The yard ramp lip will rest on loading dock platforms or floors as well as truck carrier bodies, simplifying ramp access. Our ramps also come with 8-foot safety chains to prevent the ramp from pulling away from the dock or truck.
LOW END PLATE
Reaching optimal efficiency for freight loading tasks requires equipment with reliable forklift accessibility, so our yard ramp design features a low end plate. This feature sits lower than the forklift's wheelbase, allowing the front wheels to reach the deck of the ramp without the back wheels leaving the ground. This makes ground level entry easier and safer for forklifts while improving productivity.
HIGH-TRACTION DECK GRATING
Copperloy yard ramps feature a deck grating that consists of quality, electro-forged, serrated metals such as steel or aluminum. The grating design has 1/4″ to 3/4″ bars and with 1″ spacing, so rain, dirt, snow, and other debris can pass through the grating. As a result, our ramps can offer high-traction even during harsh weather conditions.
If you are looking to upgrade your loading dock equipment and improve safety at your facility, get in touch with Copperloy today. We are happy to answer any questions you have about our yard ramps, dock boards, dock levelers, or any other loading equipment solutions.