Improve Your Loading Dock With 5 Types of Ramps for Loading Docks
Versatility From Copperloy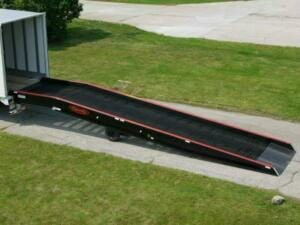 There's no reason why loading dock equipment should be difficult to operate or inaccessible. That's why Copperloy specializes in the manufacture of various ramps for loading docks. Each loading dock ramp has a different function to accommodate more products and industries. We believe in quality products with accessible inventory and prices. But how do you know what you need?
Below is a comprehensive list of 5 ramps for loading docks that serve different purposes and industries. Take time to evaluate what loading dock ramp would be best for your facility.
Ground to Dock Ramps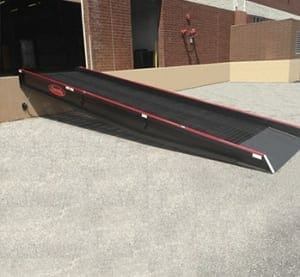 Copperloy's ground to dock ramps are a perfect solution for moving supplies on and off of loading docks. The ground to dock access allows forklifts and other vehicles to safely move between the interior and exterior of the facility. The main benefit of ground to dock ramps is their portability. Ground to dock ramps are not a permanent structure, and therefore can be moved if needed. They are easier to install than more permanent ramps.
Our ground to dock ramps are known for their versatility, low maintenance, safe handling, and overall durability. Standard capacities of ground to dock ramps range from 16,000 lbs. to 30,000 lbs. Custom sizes are available as well, so no matter what application, Copperloy has the ground to dock ramps for loading docks you're looking for.
Portable Loading Ramps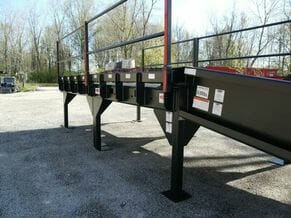 Portable loading ramps convert vacant space into an optimized freight-handling center. Many facilities choose Copperloy's portable loading ramps to expand their current dock capacity as well as to create loading docks where no dock existed before. Facility managers can also avoid the hassle of construction associated with building a new concrete ramp. Portable loading ramps are easy to install and move.
Our portable loading ramps come with unique safety features like an 8-foot level off, smooth side plates, deck grating, safety curbs, and more. Safety and efficiency are always at the top of our priority list for the loading dock equipment we sell. All Copperloy portable loading ramps can handle capacities up to 30,000 lbs. and are proudly made in the USA.
Dock Boards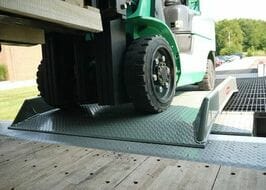 One of the biggest safety hazards at a loading dock facility is an unsafe gap between a truck or trailer and the dock. Forklifts may not be able to drive across the gap safely, and can even get a tire stuck. Dock boards are temporary solutions made of reinforced steel that bridge the gap between trucks and docks. Copperloy offers a variety of dock board sizes to accommodate as many trucks and docks as possible.
Our steel dock boards with welded steel curbs are ideal for the toughest jobs. They come in 15,000 lbs. to 20,000 lbs. standard gross capacities. Copperloy's steel dock boards are the most durable for the best value. Aluminum dock boards with welded curbs are ideal for capacities ranging from 10,000 lbs. to 15,000 lbs. They also feature a tough aluminum tread-plate and lightweight maneuverability. Lastly, our aluminum dock board with bolt-on steel curbs features two standard weight capacities of 10,000 lbs. and 15,000 lbs.
Dock Plates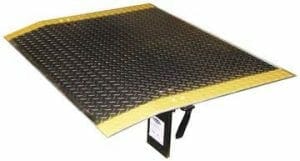 Loading dock plates are another style of ramp used to bridge the gap between the edge of a truck and a loading dock. Dock plates are flat pieces of metal and do not have curbs. As a result, dock plates are better for irregular or sharp turns. Dock plates are a more economical solution for less demanding applications.
Copperloy's dock plates are engineered to handle capacities between 1,000 lbs. and 17,000 lbs. Dollies, pallet jacks, and carts work best with dock plates due to their capacity levels. All of our dock plates are also available for special order customizations. Our in-house engineering team will work with you on any specification request.
Edge of Dock Levelers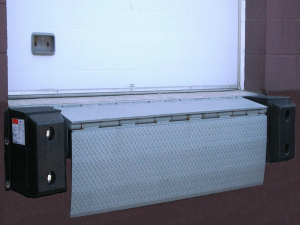 An edge of dock leveler is the ultimate way to bridge the gap from the edge of a loading dock to a truck or trailer. Edge of dock levelers are different from dock boards or dock plates because the edge of dock leveler is permanently fixed to the loading dock. An edge of dock leveler is especially ideal to use when trucks are backing up to a dock.
Copperloy edge of dock levelers are available in 66", 72", 78", and 84" widths to accommodate multiple docks. We also have models available 20,000 lbs. and 30,000 lbs. capacities. The edge of dock leveler is also the best solution for adapting docks to varying truck bed heights. Edge of dock levelers are durable, safe, easy to use, and require little maintenance.
Find the Best Ramps for Loading Docks
Copperloy is known for our state-of-the-art ramps for loading docks that optimize loading dock facilities as well as increase safety. Our ramps and accessories such as truck wheel risers are proudly made in the USA. Quality and safety mean the most to us, and we ensure that our engineered ramps always meet your expectations. For more information on our inventory of ramps for loading docks, call us today.