3 Questions You Have To Ask When You Want To Find The Right Yard Ramp
Whether you use yard ramps as part of your daily routine, or you need to add a yard ramp to your facility as part of a project, it's an investment that takes time and consideration. 
If you're new to the yard ramp industry, you might not even know what to look for when it comes to yard ramp features. Even if you've bought a yard ramp before, it's not the kind of purchase you need to make often (hopefully). So, you probably haven't kept up with the latest industry news and updates. 
Thankfully, we are the experts who are here to help you find the best yard ramp for your needs. If you don't know where to start when it comes to looking for a yard ramp, we've got a few ideas.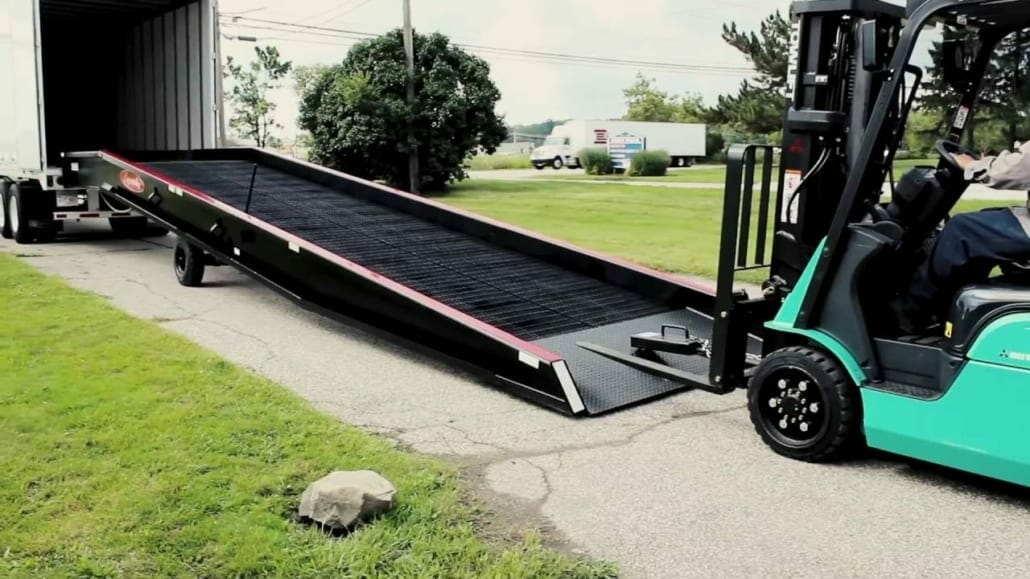 Are You Buying A New Or Used Yard Ramp? Renting Or Purchasing?
It's important to first determine whether you're renting or purchasing a yard ramp, and if you want to look for new or used ramps. This probably depends on your budget, because buying a yard ramp will have more upfront cost than renting.
If you need the ramp for a one-time use, renting is probably the way to go. Copperloy's yard ramps are large and heavy due to their durability, so you need to ensure you have a space for storage. It doesn't make sense to clear a space for a ramp you'll use once or twice. Copperloy has options for both buying and renting yard ramps. 
When it comes to new ramps versus used, this also depends on your budget and needs. Copperloy ensures all of our used yard ramps are equipped with the necessary safety features and requirements, such as the OSHA standards.
However, if you're looking to use a yard ramp often and want something that will last for years, consider purchasing new. There's a reason Copperloy's yard ramps have been called America's #1 Yard Ramp. When you invest in a new Copperloy ramp, you invest in the safety and efficiency of your workplace.
What Type Of Ramp Is Best?
You have to determine what type of ramp you're looking for before you make a decision. If you need a truck bed to ground style ramp, then you'll want to shop for mobile yard ramps. If you need dock level to ground access, you'll need to shop dock to ground ramps.
If you need assistance determining the best type of ramp for the job, Copperloy's experts are happy to help.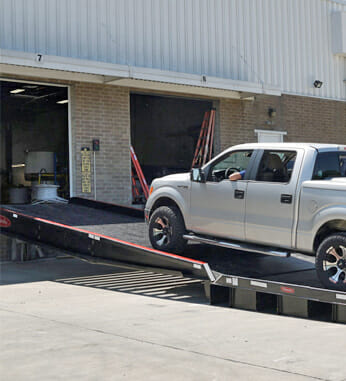 What Size And Capacity Do You Need?
You need to determine the size of your yard ramp, as well as the weight capacity you need to get the job done. Depending on the project, you may also require a yard ramp with specific customizations, outside of weight and height.  
Copperloy has high capacity yard ramps for all of your needs. Typically, teams use our yard ramps for construction, military applications, heavy equipment rentals, and more. We have varying widths and capacities, so if you're looking for a specific size, all you have to do is contact our team.
Copperloy also prioritizes easy maneuverability. When you're on a job site, you can't waste time trying and failing to position your ramp. Our ramps utilize a single-acting hydraulic hand pump design that requires half the effort needed to raise your ramp when compared with other mobile ramps. You'll benefit from features like these when you choose Copperloy. 

Count On Copperloy For Your Next Yard Ramp
For more than 50 years, Copperloy has been a clear leader in manufacturing quality loading dock equipment for material handling. Our state-of-the-art manufacturing facility uses CNC and robotic technology to engineer innovative solutions for loading dock equipment.
Our equipment is proudly made in the USA, so when you support Copperloy, you support American manufacturing. See what we have to offer and contact us to learn more.