Portable Forklift Ramp
Increase the overall productivity and efficiency of your loading operations with Copperloy's portable forklift ramp. Copperloy forklift ramps allow you to instantly create a safe forklift loading facility anywhere. Our heavy-duty forklift ramps are the easiest to position, have the fastest rise time, and greatest stability. Maximize your space, increase your productivity and safety of operators with cost-effective solutions available anywhere in the United States. 
Yard ramps allow for forklift access to all shipping containers and semi-trailers at dock level. Additionally, these portable loading ramps allow you to move the yard ramp in a timely manner by forklift within your shipping and receiving yard. 
Short and Long-term Options Available
Improving loading and unloading operations for industries nationwide. Copperloy offers 3 purchase options – New, Used, and rentals. 
New Options – If your facility does not have a conventional loading dock you can save time and money with the installation of a portable forklift ramp. This will allow forklift operators to load and unload semi-trailers in a productive safe manner. No costly concrete construction and no downtime of production.
Additionally, we can design custom dock ramps to meet any specifications and requirements. These long-term ramps can also be transported if your business needs to relocate. An investment that grows with you. 
Used Options – We offer solutions for all budgets. Our used ramp selections all come factory certified and guaranteed. Creating a portable loading dock anywhere at a fraction of the cost. For business operations on a limited budget, this is your cost-effective option. 
Rental Options – Searching for cost-effective solutions for seasonal and temporary loading dock operations is easy with Copperloy. Avoid bottlenecks and standstill time during seasonal surges of shipments. Keep your productivity flowing all year long with our portable forklift ramp rental monthly options. Our rental options come with the same benefits included as the new and used options at a fraction of the cost. 
Copperloy maintains the largest selection of ramps in the industry, including, competitively priced delivery options anywhere across the nation. 
Portable Forklift Ramp Features 
Ensure employee safety all the while enhancing efficiency with versatility. All Copperloy yard ramps come standard with the following features: 
8-Foot Level Off 

15-Inch Lip 

Safety Chains 

Hydraulic Pump

Smooth Side Plates

Low End Plate

Shark Tooth Steel Deck Grating

7-Inch Safety Curbs  

18-Inch Solid/Pneumatic Tires 

Positioning Sleeve

Towbar
Copperloy – A Trusted Industry – Loading Dock Equipment Options 
With over 60 years of experience producing yard ramps of all kinds, and with our in-house engineering team and manufacturing facility, we can design a portable forklift ramp to meet your specific needs. Whatever you're looking for, we'll help you get the job done quickly, easily and safely.
Learn more about the industries we serve and find out if we can help you with your application. Whatever the need, dock to ground applications, custom ramps, ground to truck applications, and mobile ramps you can count on Copperloy. We are the #1 source for all your loading dock equipment needs.
Additionally, all Copperloy's loading dock equipment is made in the USA, our manufacturing headquarters and sales office are both located in Twinsburg, OH. Buy local and keep America working. 
Visit our other loading dock equipment pages for more options:
Contact a Copperloy representative for a cost analysis of new, used or rental portable forklift ramp options. All of our ramps are manufactured in the United States by skilled tradesmen. Visit our financing page for the leasing and financing options we offer. Our exceptional customer service team will assist you in finding the perfect model for your facility and application. 
FEATURES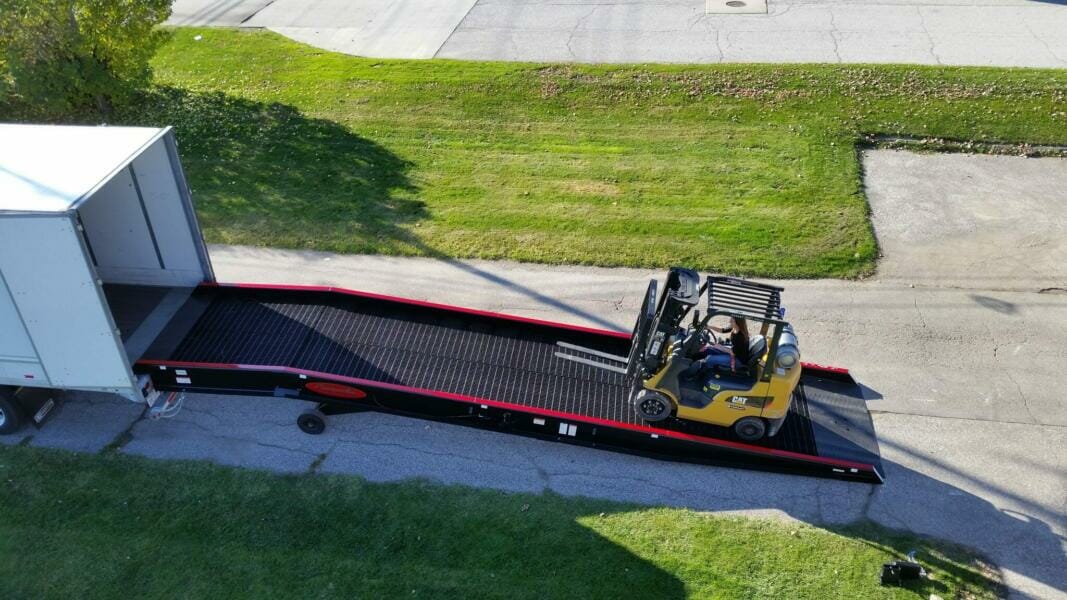 Portable Forklift Ramp Design
Our dock ramps for forklifts are made from steel or aluminum, and they feature steel grating for reliable traction to ensure worker safety. Whether you buy used or new, our mobile ramps will provide the convenience you need to handle loads more efficiently at your facility's loading dock.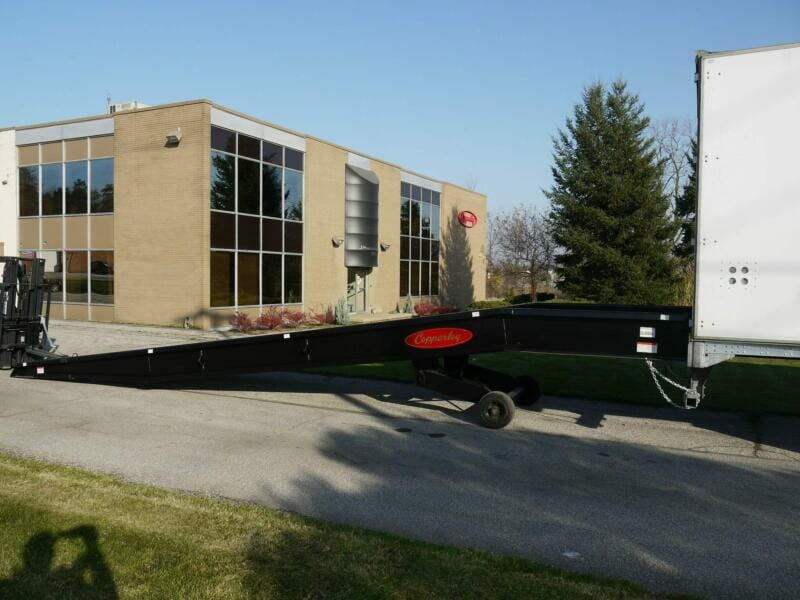 Specifications
You have a choice of widths between 70, 84 or 96 inches, and capacities between 16,000 and 35,000 lbs. On our 30-foot forklift trailer ramps, the height range is between 38 and 60 inches.
Additional Videos
View our mobile yard ramp videos here and visit us on YouTube for more of our videos!
FAQS
How do I know what capacity portable forklift ramp I need?
You can determine the capacity of ramp needed by adding together the total weight of the fork truck and the max load the fork truck carries. Our standard capacities are 16,000 lbs. and 20,000 lbs.. Larger capacities are available.
What are the sizes of the curbs on the portable forklift ramp?
The curbs on the mobile yard ramp 4″ wide and 7″ high.
How fast can I get a portable forklift yard ramp?
We stock our 16k and 20k mobile ramp models, which can be ready within a few days. Depending on other models, it can be one to three weeks.
Why are standard mobile yard ramps 84″ wide?
Mobile yard ramp are 84″ wide because that way we can guarantee the ramp will fit into the back of a trailer.
What is the useable width on a mobile yard ramp?
The usable width on a mobile yard ramp is 76″ in between the curbs.
Why should I purchase a Copperloy yard ramp vs. a competitor's ramp?
Copperloy ramps are made in the USA in Twinsburg, Ohio. The undercarriage of the mobile ramp is maintenance free. The ramp only has one cylinder and one hose from the cylinder to the pump.
The pump is on the outside of the ramp, which makes it easily accessible. Copperloy uses A572-50 high strength steel on all mobile ramps. Above all, we care you get the correct product to deliver safe and efficient results for your loading and unloading needs.
Find more answers to common yard ramp questions on our yard ramp resources page or wikipedia.
REQUEST A QUOTE
Interested in a product and want more info? Let us know below and we will reach out with more details. Consumer and dealer pricing available.
You may also be interested in these yard ramp solutions