Specialty Ramps
Copperloy's lineup of high-strength aluminum yard ramps is ideal for heavy equipment, such as sound equipment, furniture or electronics. Our ramps can handle nearly any unique need, and are available in a variety of sizes, styles and capacities. Designed for dollies and carts, the aluminum and steel yard ramps that Copperloy offers for sale feature shark-tooth decking for a safe, non-slip surface. Our aluminum and steel ramps can also be custom-made, with lengths available to 16 feet and capacities to 4,000 lbs. (U.S. Patent #200688.) No matter where you're going or what your loading, let the high-quality aluminum yard ramps from Copperloy help you get the job done more effectively.
Why should I choose an aluminum ramp?
If you're moving heavy equipment, such as sound equipment, furniture or electronics, aluminum ramps provide the durability and flexibility you need to handle items of all weights and sizes. Our specialty ramps feature shark-tooth, non-slip decking and can be custom made.
What Types Of Aluminum Ramps Do You Have Available?
We offer:
Stage/Van Ramps – Easily load and unload sound equipment for concerts and theaters.
Twin Lock Ramps – Space ramps farther apart or lock them together depending on truck size and application.
Walkboard Ramps – Durable aluminum ramps for a variety of moving applications.
Watch the specialty ramps video below to learn more.
FEATURES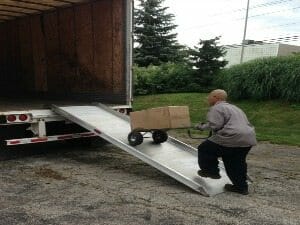 Van Ramps
Van ramps are manufactured in 2,500 to 4,000 lb. capacities, with overall widths of 38″ and 44″ and lengths from 6′ to 16′. Van ramps can service heights up to 48″ (Depending on length).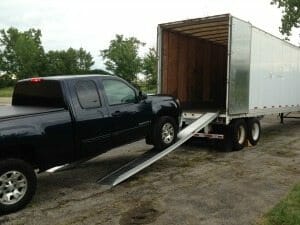 Twin-Lock Ramps
Spaced for auto loading, or locked together for manual loading, twin-lock loading ramps provide a safe and convenient way for handling heavy loads. All-aluminum construction resists weathering and provides dual service applications. Available in 6,000 and 7,500-lb. capacities per pair with overall locked widths up to 84″. Split ramps are perfect for loading:
An automobile onto a truck
A motorcycle or four-wheeler onto a flatbed truck
Heavy theater or audio equipment
Split loading ramps are available in 6,000 and 7,500-lb. capacities per pair with overall locked widths up to 38″.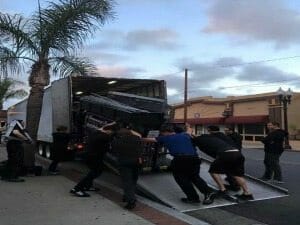 Stage Ramps
Stage ramps offer a versatile and convenient solution for usage in the concert and theatre industry. Quickly load and unload heavy equipment, sound and electrical gear, speakers and more. Make setup a breeze and cut down on the stress, time and physical labor of setting up for shows and performances.
Additional Videos
View our specialty ramps videos here and visit us on YouTube for more of our videos!
If you work in the steel industry, you're of a different breed. You work long hours in grueling conditions but never sacrifice precision and quality in the steel products you produce. Your daily grind deserves the safest, most efficient loading and unloading processes so you can work hard and smart.
Depending on the day, you might need to handle lots of heavy-duty material quickly, and being able to improve productivity without putting your safety or your coworkers' safety at risk. Keep reading to learn why more workers in the steel industry trust Copperloy for a yard ramp for the steel industry.
Why Use Steel Yard Ramps?
When you need a yard ramp for the steel industry, you need your equipment to carry heavy weights and withstand high temperatures and other risky conditions. Copperloy is the brand of choice when you need a yard ramp that doesn't quit.
With 12 different yard ramp models available, loading solutions from Copperloy can support 20,000 lb. or 30,000 lb. capacities; 12″ or 14″ projections; and 66″, 72″, 78″ and 84″ widths. Of course, we also provide custom options, so if you're unsure if there's a perfect match, we'll provide you with a customized product to get the job done.
You can easily convert Copperloy's yard ramps into a hydraulic lift with the addition of our hydraulic power unit. Enhance loading dock productivity, efficiency, while also reducing stress and the risk of injury for employees in your steel plant. for yard ramps made of high-quality, heavy-duty steel, our hydraulic power units require minimal maintenance while also offering quick and easy operation.
The hydraulic pump on Copperloy's yard ramp allows them to rise to the desired height in 11 seconds, which is impressive considering the industry average is 31 seconds, and some of our competitors can even take up to 2 minutes. Adding a hydraulic power unit automatically makes your yard ramp for the steel industry safer and quicker.

Do I Have to Buy a New Yard Ramp for My Steel Plant?
Whether you are looking to buy a new or used yard ramp for the steel industry facility you run, you'll find the right loading solution from Copperloy. A used yard ramp from Copperloy provides you with the quality of a new yard ramp without paying a new yard ramp price.
All used yard ramps and loading dock equipment are both factory-certified and guaranteed to Copperloy's high standards. There's no doubt about it, you can trust in the quality of Copperloy's products and our 60 years of experience proudly producing American-made yard ramps.
Material Handling Isn't an Everyday Thing at My Steel Plant. Can I Rent a Yard Ramp?
If owning one of our yard ramps isn't right for your business operations, you can still rent the best loading dock equipment in the industry for short-term projects. Consider our yard ramp rental program if you don't need a yard ramp at your steel plant all the time.
Yard ramp rentals from Copperloy are the perfect option for 1-day jobs that require extra material handling without a long-term commitment. Plus, any time you rent a yard ramp from Copperloy, you're always covered with the same factory-certified products from our entire lineup of high-quality, durable yard ramps for the steel industry, lifts, or edge of dock levelers for loading docks and material handling facilities of all kinds.
Can Copperloy Help me Maintain my Yard Ramp for the Steel Industry?
Our experienced staff is well equipped to help you maintain your yard ramp for years to come. Copperloy by JH Industries always makes sure to carry all the necessary parts and accessories for our inventory of loading dock equipment. When you purchase yard ramps especially for the steel industry, from us, we want to stand by our name so you can use our products for years.
Some spare parts you can order include specialty parts for our ramps like lower pin brackets, bushings, bumpers, pins, and more. The Copperloy yard ramp is always a reliable choice for the steel industry but does have a few parts that can sometimes need changing, so make sure you contact one of our specialists to take extra special care of your yard ramp.
Where Can I Buy Copperloy's Yard Ramps for the Steel Industry?
Whether your steel plant is located in rural Texas or near a bigger city like Chicago, IL, Copperloy has dealers throughout the United States that can help you find the absolute best yard ramp you need to improve your productivity in the steel industry. You always have quick and convenient access to yard ramps, portable loading docks, edge of dock levelers, and other custom-fabricated material handling equipment through our national distributor network.
For the innovative and impressive workers in the steel industry, no matter what your specific loading needs and challenges are, Copperloy is here to help you get the job done as quickly, efficiently, and safely as possible. This ensures you can focus on the work you do best. Copperloy's Yard Ramps are proudly made in the USA.
Ready to Improve Productivity with Copperloy?
Finding the right yard ramp is easy with our large selection of mobile ramps, dock boards, dock plates, and more. Just select the product category you're interested in and view our many safe and durable options in loading dock equipment. From edge of dock levelers to lifts, to yard ramps to accessories like wheel chocks, we have exactly what you need.
In addition to our standard products like portable ramps, dock boards, and more, we are equipped to create completely customized versions of any of our loading dock equipment. This can include custom lifts, portable yard ramps and truck ramps, dock boards, dock plates, and loading dock equipment that help you outperform your competitors.
Learn more about the industries we serve and find out if we can help you with your application. Contact Copperloy for more information about our services and the perfect yard ramp for the steel industry today!
/
by advandesign
Copperloy Wants to Help you Get the Job done Safer and More Efficiently
Anytime you're loading and unloading on the job, you're walking the type wire of safety and speed. Copperloy has years of experience as steel yard ramp manufacturers, and we never compromise one for the other. Time and time again we leave our competitors in the dust with our heavy-duty steel yard ramps.
Copperloy by JH industries carries the perfect steel yard ramps for a more automated workday. Whether you're looking for faster raise times or more safety options for your employees, Copperloy has it covered as steel yard ramp manufacturers. Read on to see how we can automate your next project.
Industry Leading Lift Times | Steel Yard Ramp Manufacturers
Copperloy manufactures the preferred steel yard ramp of loading crews offering the fastest raise times and easiest operation of all the portable loading ramps available through our distribution network.  Our steel yard ramps allow you to create a portable loading dock anywhere and efficiently load/unload semi-trucks and shipping containers.
When you add one of our hydraulic lift extensions to your steel yard ramp, you can get to work even faster. You can easily convert Copperloy's yard ramps into hydraulic steel yard ramps with the addition of Copperloy's hydraulic power unit. Enhance loading dock productivity, efficiency, while also reducing stress and risk of injury for your employees.
If there isn't an existing dock ramp that checks all of your boxes, the experienced steel yard ramp manufacturers at Copperloy have the capability to customize the right one for you. Contact our sales team to get started on your next custom yard ramp project.
How The Steel Yard Ramp Manufacturers at Copperloy Streamline your Productivity
The steel yard ramp manufacturers at Copperloy offer a wide selection of yard ramp sizes and capacities to fit your unique requirements. New steel yard ramps, Used steel yard ramps, and steel yard ramp Rentals available anywhere in the US. No matter what your budget, Copperloy has the right ramp for you.
For more details on the available sizes of our steel yard ramps, specifications, and weight capacities, contact the Copperloy team.  The experienced steel yard ramp manufacturers at Copperloy can assist you in finding the perfect model for your facility and job requirements to improve productivity.
Can a Steel Yard Ramp be Your Only Docking Solution?
Having the ability to accept box truck or freight deliveries is crucial to the supply chain of many industries. Products including everything from new internal supplies to bulk material and even new equipment will normally be delivered by a semi or box truck. But, not every facility has the correct requirements to implement a permanent loading dock into its structure, and it's never an affordable option to move to a facility that already has a suitable loading dock in place.
Yard ramps produced by the steel yard ramp manufacturers at Copperloy serve as either a permanent or temporary supplement to businesses whose facilities don't have permanent means of loading and unloading freight. These quality steel yard ramps are able to be easily re-positioned so that as long as the delivery driver can fit in your lot, you can easily access the freight bed.
If you were interested in modifying your supply chain in order to give your business the ability to receive freight shipments on the regular, the experienced steel yard ramp manufacturers at Copperloy can offer than solution. It's no wonder we're the #1 choice for mobile yard ramps, thanks to our features that allow for easy positioning, complete stability, and low maintenance. Automate and speed up deliveries with a Copperloy steel yard ramp today!
The Ultimate Steel Yard Ramps from Copperloy
Our steel yard ramps are produced to maximize space, automate productivity, and safety in any work place. Our commitment to quality has earned us the title of America's favorite yard ramp. Made in the USA in Twinsburg, Ohio, our one-cylinder ramp design is more stable and uses less pressure to lift any yard ramp compared to traditional yard ramps with two-cylinder hydraulic systems.
Our enhanced design features and benefits deliver:
Easier Operation – The pump location on the outside of the steel yard ramp frame allows for easier access.
The Fasted Raise Times – Vertically position the ramp up to two and a half times faster than the competitor's steel yard ramp.
Less Prone to Wear and Tear – Rotation occurs on the redesigned positioning sleeve instead of the ramp connection, reducing wear on the ramp structure.
Greater Stability and Durability – The centrally located single cylinder keeps the steel dock ramp more stable while raising and lowering which means less chance of tipping.
Solid-filled Pneumatic Tires – Better for handling rugged terrain and also reducing the chances of punctures or air pressure problems.
Features Produced by the Steel Yard Ramp Manufactures at Copperloy
Capacities of 20,000 – 30,000 lbs.
Widths ranging from 66″ to 84″
Projections of 12" and 14"
Copperloy has the widest selection of yard ramp sizes and capacities to fit your facilities requirements, anywhere in the US. The team of steel yard ramp manufacturers at Copperloy can easily assist you when it comes to finding the perfect model for your facility and application.
Ready to Place an Order with America's Favorite Steel Yard Ramp Manufacturers?
There's only one name you need to know when it's time to automate your loading and unloading processes. Copperloy manufactures the industries most efficient and safest steel yard ramps on the market.
From dock-to-ground solutions, to steel mobile yard ramps, Copperloy designs and manufactures countless steel yard ramps. As a leader in custom steel fabrication, no one can beat our reputation for high-quality, performance dock equipment.
/
by advandesign
Whether you use yard ramps as part of your daily routine, or you need to add a yard ramp to your facility as part of a project, it's an investment that takes time and consideration. 
If you're new to the yard ramp industry, you might not even know what to look for when it comes to yard ramp features. Even if you've bought a yard ramp before, it's not the kind of purchase you need to make often (hopefully). So, you probably haven't kept up with the latest industry news and updates. 
Thankfully, we are the experts who are here to help you find the best yard ramp for your needs. If you don't know where to start when it comes to looking for a yard ramp, we've got a few ideas. 
Are You Buying A New Or Used Yard Ramp? Renting Or Purchasing?
It's important to first determine whether you're renting or purchasing a yard ramp, and if you want to look for new or used ramps. This probably depends on your budget, because buying a yard ramp will have more upfront cost than renting.
If you need the ramp for a one-time use, renting is probably the way to go. Copperloy's yard ramps are large and heavy due to their durability, so you need to ensure you have a space for storage. It doesn't make sense to clear a space for a ramp you'll use once or twice. Copperloy has options for both buying and renting yard ramps. 
When it comes to new ramps versus used, this also depends on your budget and needs. Copperloy ensures all of our used yard ramps are equipped with the necessary safety features and requirements, such as the OSHA standards.
However, if you're looking to use a yard ramp often and want something that will last for years, consider purchasing new. There's a reason Copperloy's yard ramps have been called America's #1 Yard Ramp. When you invest in a new Copperloy ramp, you invest in the safety and efficiency of your workplace.
What Type Of Ramp Is Best?
You have to determine what type of ramp you're looking for before you make a decision. If you need a truck bed to ground style ramp, then you'll want to shop for mobile yard ramps. If you need dock level to ground access, you'll need to shop dock to ground ramps.
If you need assistance determining the best type of ramp for the job, Copperloy's experts are happy to help. 
What Size And Capacity Do You Need?
You need to determine the size of your yard ramp, as well as the weight capacity you need to get the job done. Depending on the project, you may also require a yard ramp with specific customizations, outside of weight and height.  
Copperloy has high capacity yard ramps for all of your needs. Typically, teams use our yard ramps for construction, military applications, heavy equipment rentals, and more. We have varying widths and capacities, so if you're looking for a specific size, all you have to do is contact our team.
Copperloy also prioritizes easy maneuverability. When you're on a job site, you can't waste time trying and failing to position your ramp. Our ramps utilize a single-acting hydraulic hand pump design that requires half the effort needed to raise your ramp when compared with other mobile ramps. You'll benefit from features like these when you choose Copperloy. 

Count On Copperloy For Your Next Yard Ramp
For more than 50 years, Copperloy has been a clear leader in manufacturing quality loading dock equipment for material handling. Our state-of-the-art manufacturing facility uses CNC and robotic technology to engineer innovative solutions for loading dock equipment.
Our equipment is proudly made in the USA, so when you support Copperloy, you support American manufacturing. See what we have to offer and contact us to learn more. 
/
by advandesign
REQUEST A QUOTE
Interested in a product and want more info? Let us know below and we will reach out with more details. Consumer and dealer pricing available.
You may also be interested in these ramp solutions
Specialty Ramps Categories