INDUSTRIAL EDGE OF DOCK LEVELERS
Industrial edge of dock levelers (EOD) bridge the gap from the edge of your loading dock to a truck or loading ramp. In contrast to dockboards, edge of dock levelers fix themselves to loading docks. Copplerloy EODs are the best solutions loading into trucks backed up to the dock.
Copperloy industrial edge of dock levelers are also easy to use. So, with just the pull of a handle, your EOD will lift itself over the truck height for quick and easy placement.
Our EOD equipment mounts to the majority of Copperloy docks available in 66″, 72″, 78″, and 84″ widths. In fact, our industrial edge of dock levelers will work with trucks up to 5″ above or below your dock levels with either 20,000 and 30,000 lb. load capacities.
Watch the dock equipment video below to learn more.
Benefits of Industrial Edge of Dock Levelers
We have designed our edge of dock levelers to operate with the simple pull of a handle or the press of a wall-mounted button. So, you can extend your EOD to the height of the trailer bed quickly and safely. Here are some more benefits of choosing Copperloy industrial edge of dock levelers:
Exceptional durability: We have designed our EODs with a three-dimensional engineering software package, so we can ensure they offer the strength you need to safely load and unload the freight.
Quick lifting and positioning: Our proprietary lifting mechanism and spring assemble will set the board in place with one-quarter of the effort required by the typical edge of dock leveler.
Push-button operation and positioning for hydraulic EOD models.
Perfect for retrofit: Copperloy industrial edge of dock levelers will mount to the face of virtually any dock. We also offer transition plates and approach ramps.
High safety standards: All Copperloy EODs feature safety maintenance struts to keep the unit secure while performing maintenance.
Low maintenance requirements: Lubricated hinges featuring grease fittings ensure that Copperloy EODs require the least maintenance possible. Saving you time and money.
INDUSTRIAL EDGE OF DOCK FEATURES
INDUSTRIAL EDGE OF DOCK LEVELERS SPECIFICATIONS
High-strength, low alloy (50,000 lb. Minimum Yield) tread plate, lip beveled for a smoother transition.
PROJECTIONS
Bumpers 16″. Ramp 13 1/2″ in the stored position. The lip extends 12″ beyond the bumpers on standard lip models and 14″ on refer lip models.
BUMPERS
4″ x 13″ x 10″ molded reinforced rubber-mounted to the steel box frame. Optional 4″ x 12″ x 13″ bumper assembly.
LIFT ASSIST
Dual extension springs.
FINISH
DThe unit is completely cleaned, deburred, and painted gray.
SERVICE RANGE
Ability to service trucks 5″ above or below the dock.
CAPACITIES
D20,000 lb. and 30,000 lb.
WIDTHS
D66″, 72″, 78″, 84″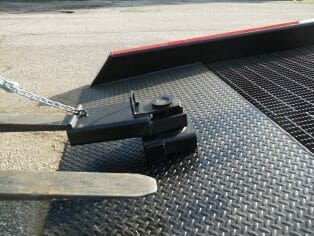 OPTIONS
DConsult the factory for more information:
Hydraulic Model – 115/230 VAC Single Phase
Mechanical Industrial Edge of Dock Levelers
Copperloy's mechanical edge of dock levelers can help you maximize your facility's productivity and efficiency. Not only are our EODs easy to install and use, but they also offer the highest possible durability, consistent results, and minimal maintenance requirements.
Our mechanical EODs feature a dual-extension, spring-lift assist that helps you properly position the board. Copperloy EODs offer a unique combination of features for incredible functionality.
Working range at 5 inches above or below the dock level.

Robotic welding for the highest quality and consistency.

Dual-extension automatic spring lift assists for easier, safer operation.

Available custom options include bumper sizes, lip styles and sizes, in-board handle assembly, and more!
We offer a total of 12 different models for our mechanical industrial edge of dock levelers. Our models include load capacities of 20,000 or 30,000 lb. capacities; 12″ or 14″ projections; and widths of 66″, 72″, 78″, or 84″.
Furthermore, we offer custom in-house manufacturing. So, if you are unsure if one of our standard models matches your application, we can custom design an EOD to your exact needs.
Hydraulic Industrial Edge of Dock Levelers
Converting a Copperloy edge of dock leveler into a hydraulic EOD is an easy process. With the simple addition of our hydraulic power unit, we can significantly improve your loading dock's efficiency and productivity while decreasing stress and increasing safety for your employees.
We design our hydraulic industrial edge of dock levelers with high-quality, high-strength materials. So, our EODs have minimal maintenance requirements in addition to quicker, easier operation.
If you think a hydraulic edge of dock leveler would improve your loading dock operation but you are unsure if our standard models fit the bill, we can custom engineer an EOD to fit your application's unique requirements.
Installation of Industrial Edge of Dock Levelers
When installation your edge of dock leveler, be sure to thoroughly review the EOD manual and take all necessary precautions. Most notably, the installer needs to inspect the condition of the loading dock and make repairs prior to installation. Anchors must also have minimum strengths in shear of 10,000 lbs. in force and 6,000 lbs. of pullout strength in untracked concrete. Lastly, your industrial edge of dock leveler needs to meet all local codes.
If you need any assistance with EOD installation, our technical staff is available for consultation about the proper steps of installation.