America's Industry-Leader in Shipping Container Ramps
Copperloy shipping container ramps are designed to optimize space, improve productivity, and ensure safety. Leading the industry in custom steel fabrication, Copperloy manufactures America's #1 yard ramp. The innovative, one-cylinder shipping container ramp utilizes less pressure to raise the ramp.
Benefits of Shipping Container Ramps
Compared to traditional shipping containers with two-cylinder hydraulic systems, Copperloy steel container ramps promise:
Easier operation – The pump location on the outside of the yard ramp frame allows for more convenient access.
Faster raise times – Vertically position the ramp up to two and a half times faster than the average ramp.
Less wear and tear – Rotation occurs on the redesigned positioning sleeve instead of the ramp connection, reducing wear on the ramp structure.
Greater stability – The centrally located cylinder keeps the ramp stable while raising and lowering which means less chance of tipping.
Solid-filled pneumatic tires – Better handling on rugged terrain while eliminating issues like punctures or air pressure problems.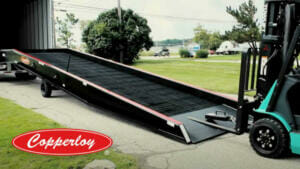 Copperloy has a wide selection of yard ramp sizes and capacities to fit your requirements. With new, used, and rental purchase options available anywhere in the US, Copperloy can deliver the ideal shipping container ramp to fit your budget. For more details on the available sizes of our yard ramps, specifications, and weight capacities, contact the Copperloy team or view the chart below. The Copperloy team can assist you in finding the perfect container ramp for your facility and application.
Shipping Container Loading Equipment | Copperloy Yard Ramp
With years of experience and an exceptional history of success, Copperloy's objective is to simplify shipping container loading and unloading tasks with increased safety, efficiency, and productivity. Therefore, Copperloy engineered a portable dock ramp, serving as a storage container ramp unlike any other.
HOW TO UNLOAD A CONTAINER SAFELY WITH COPPERLOY SHIPPING CONTAINER RAMPS
Copperloy shipping container ramps are expertly engineered with the highest level of safety and performance. Key safety features make unloading containers a breeze.
8-Foot Level Off – An 8-foot level off feature gives forklifts easy access to containers and loading platforms. Particularly on mobile ramps, this feature provides excellent stability.

15-Inch Lip

– A 15-inch lip securely sits on the platform. Mobile ramps feature safety chains. These benefits are designed to ensure the ramp doesn't pull away.
Hydraulic Pump – In comparison to competitors, a single-acting hydraulic hand pump requires minimal effort to lift. Additionally, the pump is placed in a new location for easy maintenance and to protect against dirt, debris, and damage.

Deck Grating

– Engineered for durability, high-strength steel grating bars are standard on all Copperloy ramps. Spaced bars allow snow, rain, and other debris to fall through. A serrated grating is part of the ramp's design, ensuring a high-traction running surface in all weather.
Low-End Plate – A low-end plate shorter than the wheelbase of most forklifts is designed to enable front drive wheels to reach high-traction grating. Meanwhile, the rear wheels are still in contact with the ground.
Safety Curbs – 7-inch curbs, standard on all Copperloy ramps, help prevent accidental runoff.
SHIPPING CONTAINER RAMP | A STEP ABOVE THE COMPETITION
All Copperloy ramps, including forklift ramps for containers, outweigh the capacities of many competitors. Additionally, Copperloy products are proudly manufactured in the USA. Watch the video below to discover how Copperloy's ramps measure up to standard ramps.
How Do Shipping Container Ramps Work?
Copperloy container ramps offer a quick and efficient way to a full functioning freight handling center within minutes. These ramps use one-cylinder hydraulic systems to raise and lower to whatever height you need at speeds 2.5x faster than standard industry ramps. This single-acting system also allows the ramp to raise much more evenly than double-acting ramps, so your ramp is always level when you are ready to get to work.
Getting your container loading ramp into position just takes a few easy steps. Start by closing the pump release valve, slide the pump handle into the pump opening, and crank until it reaches the desired height. Use a forklift to move the container loading ramp until the lip is completely over the trailer bed and open the release valve to allow the ramp to safely settle onto the carrier floor. Now, you just need to secure the ramp to the truck with the two included safety chains, and you are ready to get to work!
For a more comprehensive understanding of Copperloy shipping container ramp operation, check out our collection of specs, manuals, and brochures.
Choosing the Right Shipping Container Ramp for Your Loading Dock
What to choose from our selection of portable yard ramps depends on how you will be using them. Looking for a permanent loading area or do you require a portable loading ramp? What is the maximum weight that your lift trucks will be transporting? (Don't forget to include the weight of the lift truck.)
Do you require dock-to-ground access or ground-level access to railcars and trucks? Copperloy has been manufacturing yard ramps and shipping container ramps for over 60 years and our staff is available to consult with you on the best solution for your loading application.
Dock crews prefer Copperloy because our container ramps are faster and easier to position than any other cargo container ramp on the market and have been proven to outperform other manufacturers including Bluff Manufacturing, Vestil, Discount Ramps, and Handiramp. If you're not sure of your future needs, consider a rental yard ramp or a used yard ramp. All Copperloy used ramps are factory certified and guaranteed.
Dock Equipment | Additional Videos
View our loading dock equipment videos here and visit us on YouTube for more of our videos!
Types of Yard Ramps
Create a Portable Dock Anywhere with Mobile Yard Ramps
Companies can create a dock anywhere with a mobile yard ramp by easily converting open yard space into a portable loading dock. Yard ramps provide a safe, efficient method to load/unload freight with forklifts and access the back of the truck. A yard ramp is a cost-effective way to expand freight handling capacity beyond the physical loading docks in a facility.
Portable Yard Ramps
The yard ramp acts as a portable loading dock ramp and an ideal solution for shipments that need to go from ground level to the truck and a fast method to unload a truck to the ground. Copperloy offers both aluminum ramps and steel ramps depending on your weight and application requirements. Rentals are available and ideal for short-term projects.
Portable Steel Yard Ramps
Copperloy portable steel yard ramps are available in different base materials. However, steel is the standard base for yard ramps. As a leader in custom steel fabrication, Copperloy has mastered the craft of high-strength steel specifications and integrated features such a serrated steel grating for added traction. Manufactured in the USA, steel ramps such as shipping container ramps are built for durability and made to last.
Dock-to-Ground Ramps
Our dock-to-ground yard ramps provide a stationary, semi-permanent solution and are typically fixed to the dock for fast, efficient loading/unloading solution handling weights up to 30,000 lbs. Copperloy dock-to-ground ramps can be custom built to the specifications of your dock for a safe, versatile way to expand the capability of your loading dock.
Ground-to-Truck Yard Ramps
Ground-to-truck ramps allow for easy ground-level access to semi-trucks. Copperloy yard ramps allow for maximum safety and productivity when unloading and loading. Designed for industrial use, ramps are available in aluminum or steel based on your material handling requirements.
Heavy-Duty Portable Loading Docks with Dock Platforms
For facilities with limited space or no permanent dock exists,