Ramp Up Your Loading Dock Equipment Solutions
Ready To Meet The Demands Of Distribution at Your Facility? Then You Need a Dock Ramp From Copperloy
Picture this: you arrive at work for another busy day of distributing delayed packages when you discover your dock ramp isn't working at the last minute. Your daily operations can't go on without a reliable dock ramp, so what are you supposed to do? Unfortunately, this is a problem that many shipping/distribution centers are facing right now due to delayed shipments at ports in the West.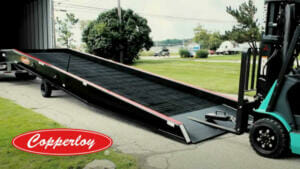 The Port of Los Angeles is the 9th largest shipping port in the world and has been backed up with cargo ships in port and out at sea for almost 2 months. This has caused a massive cargo traffic jam that has never been seen before. As of October 19th, 159 ships were in port while another record 98 were anchored at sea waiting to be processed. As many people know, the pandemic has affected daily life across the country, and shipping and cargo demands have raised exponentially.
If you're in the shipping and receiving industry, you've probably already felt the full effects of this massive backup. Now, more than ever, it's crucial to have the best loading dock equipment to support your daily operations. A dock ramp from Copperloy will support your processes during this hectic time.
How Can I Use A Dock Ramp?
If you're not sure how a dock ramp (also known as a mobile ramp) can help you process mass amounts of shipments, it's time to learn more and make the switch. Our dock ramps convert empty space into a freight-handling center by creating loading dock space where there wasn't any.   The dock ramp connects to the loading or unloading area to create a seamless path from the truck or trailer to the ground. 
Our dock ramps come with maximum capacities of up to 30,000 lbs. This weight capability is crucial for the delayed shipments you are processing. Shipments are packaged to their absolute limits to get as many products out as possible during this backup. Many of the containers consist of essential products produced overseas that Americans depend on for their daily use. You need to ensure that you have a dock ramp to handle all of the incoming shipments and their maximum weights to maximize efficiency.
Our dock ramps are known for their versatility, low maintenance, safe handling, and durability. Nobody wants to stop daily operations for maintenance tasks or major breaks. With our guaranteed to last mobile yard ramps, you won't have to worry about pausing operations during this busy time. If you know that your facility is going to need a custom size or capability to handle the incoming flow of delayed shipments, we can work with you to accommodate your requests.
Get Your Dock Ramp From Copperloy Today!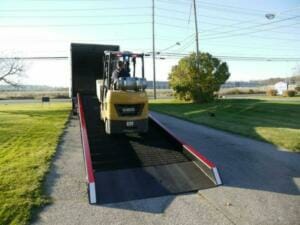 If you know your facility needs a loading dock equipment upgrade, then it's time to make the change. With a dock ramp or mobile yard ramps from Copperloy, you will get an efficient and long-lasting solution for your facility. All of our equipment is manufactured in the USA and built to last. Our unique single-acting hydraulic design makes Copperloy ramps the best. 
Engineers design our dock ramps for safety and longevity to give you peace of mind at your facility. Copperloy is a leading provider of loading dock equipment solutions including heavy-duty truck ramps, edge of dock levelers, portable dock platforms, and more! Contact us today, and our staff will be ready to answer your questions.