DOCK LIFTS | LOADING DOCK LIFT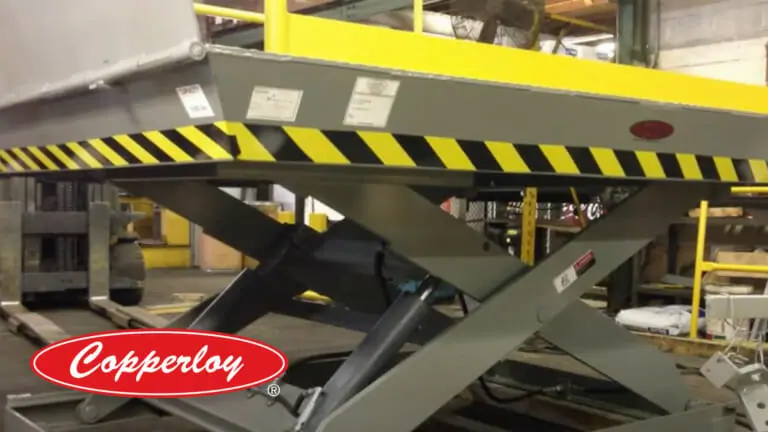 A Copperloy loading dock lift lines up a load to any truck bed height with the push of a button. Designed for permanent installation or portable use, a Copperloy loading dock lift has heavy-duty, solid-steel construction and powerful hydraulics to handle loads up to 15,000 lbs. safely and efficiently. With up to 60″ of vertical travel, our loading dock lift accommodates even the highest trucks. Built for durability, performance, and safety,
a Copperloy hydraulic dock lift is designed for convenience, versatility, and dependability. In addition, solid steel scissors provide exceptional stability.
On our pit-mounted units, all rollers are captured to prevent upending. A steel tread plate is used on all running surfaces for sure footing. Piston-type hydraulic cylinders have hard-chrome plated and polished rods complete with polyurethane seals and wear plates for long, leak-free life. All pivot pins are turned, ground, polished, and hard-chrome plated. The pressure-compensated valves assure smooth starts and stops. Our pit-mounted units also ensure controlled motion. Every Copperloy loading dock lift is built to ANSI MH 29.1 standards. Check out America's ultimate yard ramp too.
Additional Videos
View our specialty ramps videos here and visit us on YouTube for more of our videos!
Safety | Loading Dock Lift
Improve Efficiency And Worker Safety On Loading Docks
Copperloy offers a wide range of lifts that improve productivity and maximize worker safety. Designed for permanent installation or portable use, our heavy-duty loading dock lifts are constructed of solid steel for long-lasting, reliable performance even in tough applications. You'll find several different loading dock lift and lift table models to accommodate a wide range of needs.
Permanently installed pit-mount dock lifts are available in standard capacities from 5,000 lbs. to 15,000 lbs., to accommodate everything from hand carts to power pallet jacks to lift trucks. Higher capacities are also available.
You can have a loading dock anywhere you need one, as long as the roadway surface will support the base of our dock lifts without deflecting. There is NO pit required. Standard loading dock lifts models are available with capacities up to 5,000 lbs.
Why Choose Copperloy?
For over 50 years, Copperloy has been the leader in manufacturing quality, durable loading dock equipment for material handling.
What Makes Copperloy Loading Dock Products Superior?
A state-of-the-art manufacturing facility inclusive of CNC and robotic technology.
In-house Engineering staff reviews each job for proper application and structural integrity.
The technical Sales department works with Engineering and the customer throughout the manufacturing process to ensure the product meets the demands of the application.

Proudly Made in the USA
Challenge us with your difficult application! With our in-house engineering department and complete manufacturing facility, we oversee your project from start to finish. From raw material to finished product, your order is produced within our facility. This unique situation enables us to control every step of the manufacturing process, resulting in a quality product built to last.
Portable Dock Ramps, Dock Boards, Loading Dock Lifts
Setting the pace in material handling equipment, Copperloy has been providing quality portable ramps and loading dock equipment like a loading dock lift for over 50 years. All products are manufactured to meet applicable industry and safety standards. Whether you need dock plates, portable yard and truck ramps, portable loading docks, hydraulic lift tables, a loading dock lift, or other loading dock equipment, we offer the right equipment for your application.
Portable Truck and Yard Ramps, Loading Dock Lifts and Dock Plates
Finding the loading dock equipment you need is easy with our large selection of portable ramps, dock boards, dock plates, and more. Just select the product category you're most interested in and view our many safe and durable pieces of equipment. From dock lifts and portable ramps to accessories like wheel chocks, we have it all.
In addition to our standard Copperloy products of portable ramps, dock boards, and more, we are equipped to also design and manufacture custom products for portable loading docks. These include custom lift, portable yard and truck ramps, dock boards, dock plates, and loading dock equipment to meet your unique needs.
Learn more about the industries we serve and find out if we can help you with your application. Contact us for additional information about our services and your equipment interests today!