What Are Rail Dock Plates?
Rail dock plates are also known as railcar dock plates, rail dock levelers or rail boards all serve in the utmost important function of creating a dock platform for loading and unloading freight rail cars using a forklift. Our rail dock boards are designed and specifically engineered to meet the dimensions and specifications for each unique rail loading dock site. Connecting railway boxcars to loading docks with our railcar dock plates will ensure safety and durability, increase work efficiency and profitability of your material handling rail car shipping industry.
Copperloy offers several design applications including rectangular, flared, refrigerator car, car to car and plug door cars. Our heavy-duty rail boards are proudly manufactured in the US with rugged all-welded steel construction with standard capacities up to 40,000 pounds. Additionally, our in-house engineering team can custom design larger capacities to meet any specifications of your loading applications. Additional features include a non-slip high strength plate decking, forklift lifting loops, and a rugged under-brace and automatic locking ring for positive and secure positioning.
If your business depends on the boxcar material loading and unloading industry then a rail dock plate is an essential and economical tool to own. Building a bridge between the boxcar and the dock enables your employees to move your loads from one place to another, safely and efficiently.
FEATURES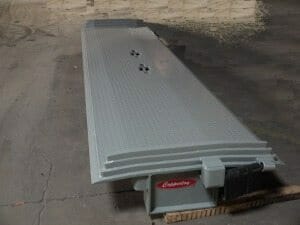 Rail Dock Plates
Standard capacities up to 40,000 lbs. (larger capacities also available)
Rugged all welded steel construction.
Heavy understructure for safety and durability.
Drop through lift loops or lift chains standard.
Available in rectangular or flared.
Heavy understructure spans the gap and locks ramp into place with 8″ automatic ring adjustments (14″ max adjustment).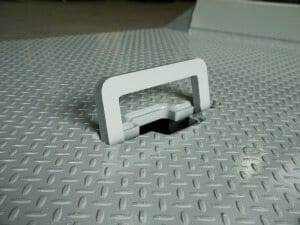 Lift Loops
Come standard on all

Rail dock plates.

Spaced on 24″ centers.
Located 24″ from approach end of railboard to accommodate different fork sizes.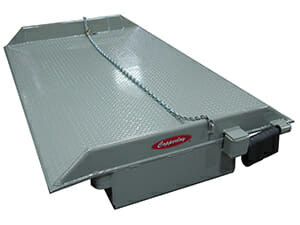 Lift Chains (optional)
Available in 1 or 2 piece.
Center hooks disconnect during use.
Secured to the curb.
Available on all rail boards