Find Copperloy Yard Ramps in Idaho
Copperloy is proud to be the leading choice for high-quality, dependable Idaho yard ramps for all industries and types of facilities. When you're searching for loading dock equipment in Idaho, whether you're working with heavy machinery, agriculture, or anything else, Copperloy is the only name you'll need to know. You can be confident in in your choice to trust in our expertise. We have more than 60 years of experience and all of our material handling equipment is proudly made in the USA.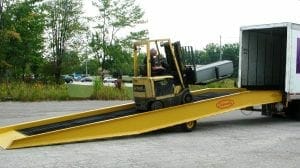 Idaho Yard Ramps
Our lineup of portable dock ramps and other loading dock equipment is extensive, including portable yard ramps, dock-to-ground ramps, truck ramps, and forklift ramps. Other types of gear include edge of dock levelers, dock lifts, lift tables, dockboards and plates, and more. So whether you're in Boise, Nampa, Coeur d'Alene, or Pocatello, Copperloy has you covered.
All of our gear is designed to improve your operations. You'll be more productive, efficient, capable, and safer.
Take advantage of our friendly customer service and call our team today at  888-989-9164 to get started with the industry leader for yard ramps — Copperloy.
Contact for more information!