Printing and Publishing Industry Material Handling Equipment
The printing and publishing industry often requires lifting and handling of large rolls, sheets and printed materials. If employees attempt to do this on their own it could be very dangerous. That is why Copperloy supplies this industry with the loading dock equipment they need.
Printing and publishing companies have a variety of unique needs in terms of lifting and handling of large rolls, sheets and printed materials, loading and unloading supplies and finished products and much more. With the right material handling equipment for printing and publishing, all of these tasks can be performed more safely and efficiently. Employees can get more done in less time, while reducing the risk of injury, and enabling your facility to be prepared for growth and expansion. Copperloy has more than 60 years of experience supplying printing and publishing material handling equipment of all kinds. Our custom-made equipment can be utilized in many common ways, including:
Loading or unloading printed materials
Loading and unloading trucks without a dock
Handling large rolls
Feeding and offloading large sheets of paper at presses, trimmers, other equipment, and more
To accomplish all of these tasks, Copperloy offers a variety of material handling solutions for the printing and publishing industry, including:
Ergonomic and Hydraulic Lift Tables
Edge of dock levelers
Dock lifts
And more – yard ramps, dock boards, etc., as well as custom made and designed products to meet your specific needs and circumstances.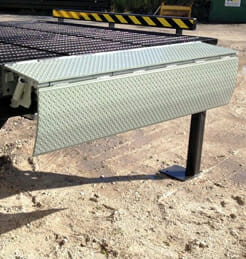 What makes Copperloy Edge of Dock Levelers for Printing and Publishing Better?
You have lots of choices for edge of dock levelers for printing and publishing, and it's important to make the right choice.
A state of the art manufacturing facility inclusive of CNC and robotic technology.
In-house Engineering staff reviews each job for proper application and structural integrity.
The technical Sales department works with Engineering and the customer throughout the manufacturing process to ensure the product meets the demands of the application.
Copperloy strives to provide the best heavy-duty loading equipment on the market.
Durable Edge of Dock Levelers for Printing and Publishing Industry
Durability is another key component to a properly functioning and lasting edge of dock leveler. While most lifts have some wear and tear at the pivot points, Copperloy's pivot points are equipped with bushings to minimize wear. This is another area that sets us up above our competition.
Other Material Handling Options at Copperloy
A heavy-duty edge of dock isn't the only high-quality piece of equipment offered at Copperloy. We provide customers with a wide variety of American-made mobile yard ramps, dock-to-ground ramps, truck ramps, lifts and forklift ramps.
We also offer rail boards, dock plates, and portable platforms. All of our material handling equipment is available to purchase, some even available to rent. Copperloy provides only the best products on the market to make our customer's loading and unloading experience significantly lighter. Learn more about what Copperloy can do for your unique table and lift needs by calling us today at 1­-800-­321­-4968 or contact us here.
New Vs. Used Material Handling Equipment
Copperloy's yard ramps, edge of dock levelers, and all material handling equipment is built to last. So whether you buy new or used, you'll be happy you went with copperloy.
Whether you are looking to buy new or used edge of dock levelers for your loading dock facility, you'll find the right product from Copperloy. A used edge of a dock leveler from Copperloy provides you with the quality you expect at a price you can't find anywhere else.
All used edge of dock levelers and loading dock equipment are both factory-certified and guaranteed to Copperloy's standards. There's no question about it, you can trust in the quality of our products and our 60 years of experience proudly producing American-made loading dock equipment.
OVER 60 YEARS EXPERIENCE AND LOCATIONS NATIONWIDE
Our competitors might try, but getting close to Copperloy's level of quality and maximized productivity hasn't been achieved in our 60 years in the industry. Our high end material handling options including edge of dock levelers for printing and publishing industries make work places safer and more efficient. You can find our distribution centers all across the united states.
Copperloy is the preferred edge of dock leveler of dock crews offering the fastest raise times and easiest operation of all the portable loading ramps available today. Our EOD's allow you to bridge the gap between a loading dock anywhere and efficiently load/unload semi-trucks and shipping containers.
Contact us to learn more about our printing and publishing industry material handling equipment and solutions.
Buy your yard ramp, dockboard, or dock leveler from the top US manufacturer. Great pricing on industrial loading ramps to make your loading dock more efficient. We're the forklift loading specialists with the ideal ramp to speed up your loading/unloading of trucks.
Whether you're looking for edge of dock levelers, dockboards, steel yard ramps to ground-to-dock ramps, our ramps are engineered for safety and built for durability.
You can call us directly at 800-321-4968 to get started today.